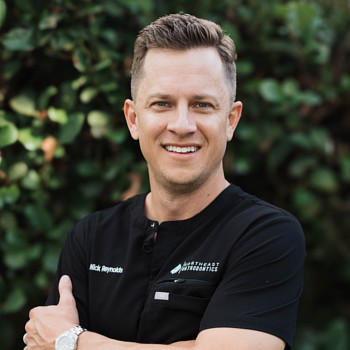 Dr. Nick Reynolds is originally from Georgia, but had the privilege of growing up in many different countries such a China, Singapore and New Zealand. Since returning to the United States for college in 2003, Dr. Reynolds has received a world class education in Dentistry and Orthodontics, and has spent his professional career in St. Petersburg, FL. When he isn't working, he's a devoted family man, avid golfer, and Tampa Bay sports enthusiast! Dr. Reynolds is married to Laura Lynn and they have a beautiful daughter named Elle, and a handsome dog named Frisco.
Being an Orthodontist
"As long as I can remember, it has been my goal to pursue a career where each day I can work with my hands, help someone, be artistic, strive for perfection, and provide for my community. Orthodontics is the perfect marriage of all those things. I can't see myself doing anything else!"
Professional Philosophy
"My goal is to provide children and adults in the St. Pete area with smiles they are proud of, while providing first class service, state of the art care, and a friendly atmosphere."
Living and Working in Saint Petersburg, FL
"Living and working in the Tampa Bay-Saint Petersburg Metropolitan area is a dream come true. We are so lucky to live in one of the best areas in the country. We have three awesome professional sports teams, incredible beaches, world class dining, great weather, and a thriving economy. Can't beat it!"
Education
•
B.A. in Biology and Political Science, Rollins College, Winter Park, FL
•
Doctorate of Dental Medicine, Tufts University School of Dental Medicine, Boston, MA
•
Advanced Education in General Dentistry, Nova Southeastern University College of Dental Medicine, Davie, FL
•
Certificate of Advanced Graduate Study (CAGS) in Orthodontics, Jacksonville University, Jacksonville, FL
On Life Outside the Office
"Having a healthy work-life balance is essential for both professional and personal success. Spending quality time with my family enjoying our city, as well as taking the time to travel and explore the wonderful places in our world, are all essential for me to be able to recharge and succeed in both facets of my life. Additionally, I must say, I owe a big thank you to the game of golf, and the sport of snow skiing. Thanks for the excuses to spend as many hours a day outside as possible!"