Because your smile deserves more than "one size fits all."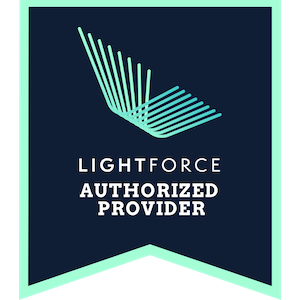 Northeast Orthodontics is proud to be the only office in the surrounding area to offer cutting edge custom, fully digitally designed 3D printed braces made just for you! The technology unlocks the ability to have a truly patient specific prescription. Gone are the days of the old idiom "one size fits all", with LightForce braces are truly One Size Fits One. Every person is an individual, and we believe that every individual deserves the choice of a personalized precise individual prescription unique to their goals and treatment objectives.
Using our iTero digital scanner, Dr. Reynolds and his team capture mapping images of your teeth which allows them to create your unique digitized treatment plan, known as a LightPlan. Every plan is individually designed based on your unique tooth shape, jaw line, and facial structure, enabling a perfect fir throughout the straightening process.

The benefits of LightForce:
Efficient Treatment – thanks to braces that are designed to exactly match your teeth
Discreet Treatment – thanks to the 3D printed tooth-colored polycrystalline ceramic braces
Ideal Results- thanks to digital treatment planning and more effective bracket technology
Perfect Fit – thanks to digital scanning and mapping technology
If you are interested in learning more about LightForce, call our office for a complementary consultation today!